CBD Drinks – Everything You Need to Know
Mee Staff
CBD drinks exploded onto the UK market at some pace. One day, they were nowhere. And now, they are everywhere. There are even Trip Drinks adverts on the London Underground. In this day and age, things change quickly.
For example, in 2021, a report from the Association for the Cannabinoid Industry found the UK's CBD market to be valued at £690 million. That's a growth of more than double in just two years! 
When you talk about the global CBD drink industry, one study found the CBD drinks market - valued at 2.83 billion USD in 2021 - is predicted to reach the value of almost $9 billion by 2029. Now that, my friends, is fast!
However, many people are still uncertain or hesitant about introducing CBD drinks into their lives. We're here to give you some peace of mind. Whether its sipping on a fizzy CBD beverage or adding a a Mee CBD Drop into your cup of tea, CBD drinks are great an easy way to take your daily of CBD.
What are CBD drinks?
The beauty of a CBD drink is that it can be anything. They can be hot, cold, fizzy or flat. They can be premade or made by you. CBD drinks can be delicious, or, well, not so delicious – though of course we prefer the latter. The most important thing is that they are infused with cannabidiol (CBD), the non-psychoactive component of the hemp plant.  If you prefer drinking the premade version, like Trip Drinks, or would rather add Mee CBD to your favourite soda or morning cuppa. It's up to you.
However, one positive is that CBD drinks provide a convenient and consistent way to consume your daily CBD dose. What would you rather do to take your daily dose? Vaping, taking a tablet or carrying around CBD food with you all day? In our opinion, drinking your favourite drink infused with CBD is certainly a little more simple. A CBD drink might be the best option for you.
Are CBD Drinks legal in the UK?
If you've ever seen the word CBD, it's perfectly reasonable for to your first thought to be, "ILLEGAL!" Well, it certainly isn't the case. And it isn't harmful either. After all, THC - the actually illegal psychoactive substance that causes a high when ingested or inhaled - and CBD come from the same plant, hemp. But they are both very different. And CBD is legal.
It's no surprise that the popularity of CBD has increased enormously. Many high street shops and retailers sell the product across the UK. However, we will always advise you to research the country's CBD laws before taking your CBD drinks to other countries. Walk down your local high street and they're likely to offer it. Whether that is water-soluble products like Mee CBD, or CBD drinks like Trip Drinks, that's up to them. 
How long does it take to feel the effects of CBD Drink?
Every person has a varying absorption time. And every CBD product has a varying onset time too. You will feel the effects of vaping CBD more quickly, but it probably won't last as long. With CBD oil-based edibles, the mucous membranes in the mouth allow the CBD to enter the bloodstream directly, and then the majority of the CBD is absorbed post-digestion through the liver. That means onset time is longer, but it generally last longer too.
However, direct onset time varies according on your gender, weight, and even your personal cannabis tolerance. Say you've just finished a colossal meal. You can hardly speak you're so full. Well, you might not feel anything for a while longer than usual.
But, the key difference is whether your CBD drink is water-soluble or oil-based. We'll go into that more later, but the main thing to note is that no CBD drink or edible affects anyone the same. Most important is to work out is the perfect CBD dose for you!
Why Mee's water-solubility is better for CBD drinks?
Many components of the hemp plant, including CBD, are fat-based in their natural state. That means they are frequently poorly absorbed when consumed. As a result, customers are therefore less likely to experience the CBD from their CBD drinks as effectively as possible. And that's not ideal.
In step the scientists. To better understand the onset and duration of CBD absorption after consumption, many scientists are experimenting more with cannabinoids. But there was one key finding - absorption onset and duration are drastically improved when CBD is converted from fat-based to water-based forms. The second thing they discovered was that how rapidly consumers absorb CBD is greatly influenced by the components and procedures used to transform CBD into water-based formats.
One study also found that using water-soluble CBD formats increased blood absorption over four times more effectively than oil-based formats, meaning water-soluble CBD, like Mee, can take 5-30 minutes to absorb. To compare, that means as much as 4 hours with oil-based formats. You wouldn't wait four hours for a caffeine boost!
So, we took this to heart. Our products are up to 9x stronger than standard CBD Oils. Their increased bioavailability means you can absorb more of the active ingredient - as much as 90% in comparison to 13-19% in oil-based formats. And the CBD actually goes to where it's needed in the body. So don't wait ages for your CBD drink to kick in. Not to mention, it is completely tasteless too! Try Mee CBD's water-soluble formula instead.
What kind of CBD Drinks are out there in the UK?
I'll tell you what. CBD drinks are turning into a pretty big industry. In fact, they're everywhere. CBD coffee, CBD tea, CBD cocktails, CBD energy drinks and CBD soda. The list is endless.
Goodrays was one of the first CBD drinks made available in the UK, and though it is a little stronger than some of the other brands at 30mg per can, but the results are worth it. At Mee, we're fond of the Blood Orange & Grapefruit flavour.
Another we like, though its not a soda, is EXALT and their Chilled AF CBD range. It's delicious orange, mango and pineapple with cold-pressed ginger, lime and basil juice combination does wonders for the sense. It may only have 15mg CBD inside, but because it's made using water-soluble CBD, its onset is quicker – and as above, more effective.
Finally, Trip Drinks is a brand you've probably come across. We saw an advert for them on the Tube the other day! They have some delightful, light and fruity flavours so they are great substitutes for your favourite fizzy drink. However, Trip drinks also sell the TRIP Cold Brew, a tasty coffee option too.
Additionally, the CBD alcohol industry is booming too. We've seen it at a number of bars around the country. Whether its spirits, like Muhu's sweet hibiscus gin (40% ABV) with added CBD, or beers like Cannabrew, they are popping up everywhere.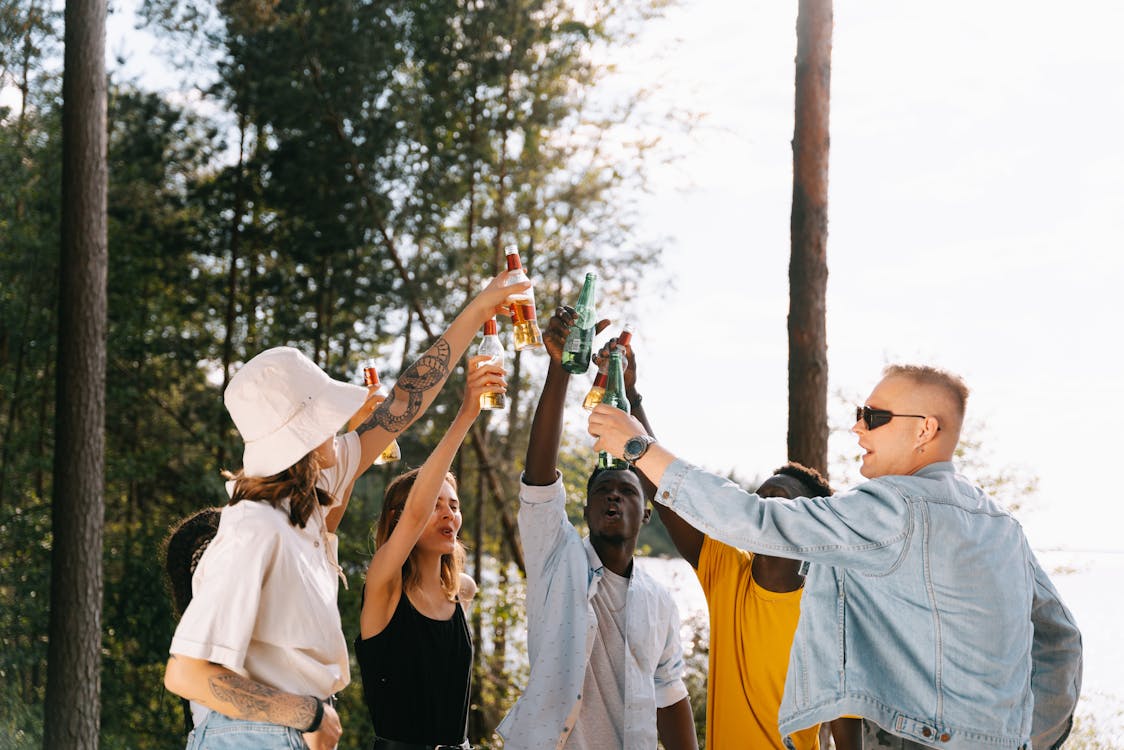 What are Mee's Favourite CBD Drinks?
At Mee, we like making our own CBD drinks. Sure, we love Trip Drinks and CBD gin, but there's something about using your own beloved recipes whilst still taking a dose of CBD. Because our water-soluble CBD is completely tasteless, it can be added to anything without you noticing. Perhaps pop it next to the kettle, so when you're making your morning cuppa or coffee, it's easy to add. Here's a few other ways you can add your daily CBD dose to make the perfect CBD drink.
Oh, so you want to get your day off to a great start? Have a look at our own version of the Hailey Bieber Smoothie CBD Edible Recipe. Maybe you saw it when Hailey Bieber partnered with an American supermarket chain to launch a new smoothie drink. Yeah, it went viral on Tik Tok. In typical Hollywood style, some ingredients are pretty hard to find so we created with a recipe you can use with everyday items. Oh, and with Mee CBD too!
Now for the 11am caffeine boost, try our CBD Turmeric Latte. Beautiful orange colour, warming spices and delicious. Now that's a winter warming CBD drink.
And finally, you've finished work.  It's 6pm – or even earlier, if you're feeling cheeky – and that means it is, of course, time for Spicy & Fruity Gin CBD Cocktails. Try the Elderflower and Thyme Father Time? Maybe the Ginger and Mint Infused Snow Burn? Perhaps our favourite, the Italy-inspired Olive and Basil Infused 'La Med' for a taste of summer. A CBD drink to help you remember that winter is on the way out!  
But in case you like winter, why not snuggle on the sofa for a perfect CBD drink to chase the cold away. Our Spicy CBD Hot Chocolate recipe is ideal for those who love a little bit of zing. What a way to finish the day.